Year of the Nurse and Midwife
The World Health Organization has proclaimed 2020 as International Year of the Nurse and Midwife in honor of the 200th anniversary of Florence Nightingale's birth and in recognition of the vital role YOU play in the delivery of health care around the world. Because stroke is the number one cause of preventable adult disability, neurovascular disease demands the excellence in clinical services that YOU provide to reduce disability and death. ANVC empowers stroke clinicians with knowledge and skills because stroke patients deserve nothing less!
ANVC joins the WHO in this initiative by recognizing and highlighting the contribution of nurses in fighting stroke. WE WANT YOU!
AND THE WINNER IS...Jennifer Henry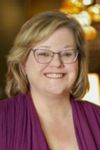 Jennifer Henry (pictured above) is the director of the Comprehensive Stroke Center at the University of Tennessee in Knoxville. This stroke program has been recognized by the Joint Commission as one of the best in America. It has been built from the ground up by Ms. Henry who has worked tirelessly to ensure stroke patients get nothing but the best, most efficient, most innovative, and most compassionate care possible.
Jennifer is committed to education - she is both a devoted lifelong learner, but she also loves to teach and inspire others to provide excellent stroke care. Her credentials include CNRN, SCRN, and NVRN. She also earned her MSN while working (more than) full-time. She teaches many classes of Advanced Stroke Life Support every year, which is attended by ED, critical care, and stroke acute care nurses and other staff members. She also drives countless community and EMS education and outreach programs to ensure we are not only influencing stroke care in the hospital, but also pre-hospital and in the community as well.
But I believe her most meaningful contributions do not add more letters behind her name. She is calm and thoughtful in the face of adversity, she is the "North Star" of the stroke program and UTMCK, as clinicians, physicians, support staff, and I'm sure many others I am not aware of look to her for clear direction. She is a staunch patient and nurse advocate, and while under her leadership, I knew I could turn to her guidance in any situation, day or night.
Jennifer winner will be honored at the next ANVC Annual Conference with a plaque, free registration to the conference as well as a $1000 honorarium courtesy of the Health Outcomes Institute.
We would like to thank the the ANVC membership for submitting nominees Kasha Pinkerton, Nicolas A. Pinuel, and Abbigayle Doerr as very worthy candidates for this honor. Thank you all for what you do on a daily basis in making a difference in the lives of stroke patients and families. We are very proud to be your colleagues.