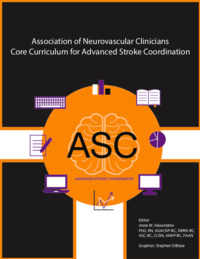 The ANVC Advanced Stroke Coordinator Core Curriculum book provides concise, detailed information for clinicians preparing to sit for the ASC Certification Examination.

Please click "Next" to place order!
Price: $77.00 USD
Overnight shipping is now available! Pay a fee of $13.00 USD to ship your book overnight.
**Disclaimer: When ordering curriculum books, it is HIGHLY recommended to ship these to a HOME ADDRESS. ANVC is not responsible for materials that shipped to your hospital/institution that cannot be located. If you have any questions, please contact info@anvc.org.