ANVC CONNECT MARCH 10
Upcoming ANVC Webinar
ANVC continues it's Lunch and Learn webinar series this month. Join us next Thursday, March 19th from 12:00 PM - 1:00PM (CST) for a presentation by Audrey Arango, RN, BSN, NVRN-BC titled: Staffing & Workload in the Interventional Suite. The presentation will again be accessible via GoToMeetings (see login information below). New to GoToMeeting? Click here to get the app now and be ready when the meeting starts.
ANVC and ASN Collaboration
ANVC does it again!! Because collaboration among healthcare team members is paramount in treating stroke patients, ANVC is committed to providing opportunities that allow interprofessional communication and learning. ANVC and the American Society of Neuroimaging jointly presented "Multi-Modal CT Imaging: From Basic to Advanced Clinical Practice," at the 43rd Annual Meeting of the ASN on March 7 in Atlanta. Faculty included Anne Alexandrov, PhD, AGACNP-BC, ANVP-BC, FAAN; Ryan Hakimi, DO, MS, FNCS, NVS; Marc Malkoff, MD; Abby Doer, DNP, FNP-BC, ANVP-BC, SCRN, CVRN; Andrei Alexandrov, MD. RVT, NVS; Emma Fields, APRN, CNP. See if you recognize any of your colleagues below! ANVC will continue to pursue opportunities like this #becausestrokepatientsdeservenothingless!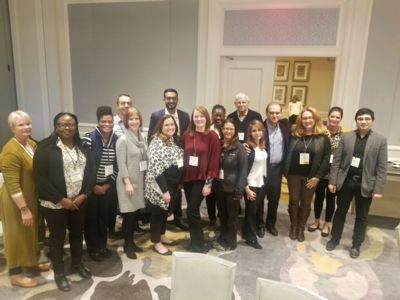 International Year of the Nurse and Midwife
Join us in celebrating the International Year of the Nurse and Midwife in honor of the 200th anniversary of Florence Nightingale's birth by recognizing and highlighting the contribution of nurses in fighting stroke. WE WANT YOU to nominate nurses (can be individual or group) who have made significant contributions to patients, stroke programs, communities, prehospital emergency services, or public policy making in order to reduce the burden of stroke. You may also self-nominate!
Nominations should include the following:
Professional photo that will be placed on the web and used in promotional announcements;

A description (limited to no more than 1000 words) of the contribution worthy of this recognition;

A brief biosketch that describes the individual or group including place of employment, credentials, and other key information.

Individual nominees must be an ANVC member; if a group or team is the nominee, at least 1 person on the team must be an ANVC member. (Board members and Past Presidents are ineligible for this recognition; volunteer committee members are eligible.)

Send the above information to info@anvc.org with Year of the Nurse and Midwife in the subject line.
ANVC will highlight the nominees on the ANVC website from April 1 – July 31 and the ANVC membership will select the first place winner via election in August 2020.
The winner will be honored at the ANVC Conference in Los Angeles on November 16-17 with a plaque, free registration to the conference as well as a $1000 honorarium courtesy of the Health Outcomes Institute. Attendance at the ANVC conference in November is a requirement for submission. If the winner is a group, then one member from the group will receive the free registration.
Spotlight on Board Member
Introducing: Sharon Biby, MSN, AGPCNP, NVRN-BC, ANVP-BC, President ANVC





1. Where do you work? The Moses H. Cone Memorial Hospital in Greensboro, NC
2. What is your professional role? Acute Care Nurse Practitioner for Stroke Team
3. What are you reading? I am supposed to say some intellectual title, but honestly, if there are no pictures, I am not interested. My guilty pleasure is fashion YouTube videos.
4. Share an inspirational quote: "Direction, not intention, determines your destination." - Andy Stanley
---
Quick Links:
ASC CERTIFICATION
ASC Review & Exam, Phoenix, AZ - March 13 & 14
NVRN CERTIFICATION
NVRN Review, Memphis, TN - April 23 & 24
NVRN Review & Exam, Knoxville, TN - June 26 - 28
NVRN Rapid Review & Exam, Brisbane, AU - August 19
NVRN Rapid Review & Exam, Perth, AU - September 9
Computerized Exam Available at Testing Centers Nationwide
ANVP CERTIFICATION
ANVP Rapid Review & Exam, Phoenix, AZ - March 14
RECERTIFICATION
FIND AN NVRN TESTING CENTER LOCATION
ANVC CORE CURRICULUM
HOST A REVIEW COURSE