ANVC CONNECT NOVEMBER 27
Greetings from Atlanta, the site of the first ever Advanced Stroke Coordinator (ASC) course and board exam! Sixty stroke coordinators from across the United States actively participated, validating their knowledge in excellence in stroke care, solidifying evidence-based systems and practice models for the role, and forming new networking opportunities. Congratulations to our colleagues who have earned the ASC-BC (Advanced Stroke Coordinator-Board Certified) credential! If you missed this first class, ANVC will be offering the ASC course on March 13-14, 2020 in Phoenix. Click here for more information.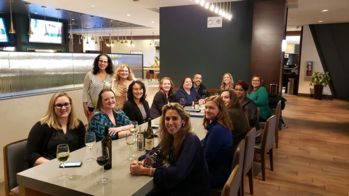 ANVC Asks….
For those who participated in the Atlanta ASC course, is there one question you wished you had asked? Click here to submit question.
Also, congratulations to the Advanced Practice Providers who attained the ANVP-BC credential during the Atlanta meeting!
Membership Survey
The membership survey is IN! The ANVC Board reviewed the survey and plan to implement many of the suggestions provided by YOU, our members. We appreciate the feedback! Stay tuned for additional resources and services to empower you to provide the best stroke care to patients around the world.
Recertification Reminder for NVRN and ANVP Members
Go to www.anvc.org for additional recertification requirements.
Requirements include:
Current licensure in advanced role specialty in country of origin if ANVP-BC provider and current licensure as registered nurse in county of origin if NVRN-BC provider, AND EITHER:
OPTION 1: Recertification by Examination – Minimum of 1,000 neurovascular practice hours in the past 1 year AND successful completion of the appropriate ANVP or NVRN board certification examination;* OR,
OPTION 2: Recertification by Continuing Education – Minimum of 5,000 neurovascular practice hours in the past 5 years AND evidence of completion of a minimum of 100 hours of continuing education pertinent to neurovascular clinical practice.

*Note: Certificants that select Option 1 are to complete an application for ANVP or NVRN examination form (www.anvc.org) and submit it via the same methods used for first-time certificants; no other application forms are necessary. Please note that Option 1 certificants that fail the ANVP or NVRN exam are ineligible for recertification by continuing education (Option 2)
ANVC Mission:
As the number one cause of preventable adult disability, neurovascular disease demands excellence in clinical services to reduce disability and death. Stroke clinicians depend on ANVC to empower them with knowledge and skills, because our patients deserve nothing less.
---
Quick Links:
ASC CERTIFICATION
ASC Review & Exam, Phoenix, AZ - March 13 & 14
NVRN CERTIFICATION
Computerized Exam Available at Testing Centers Nationwide
ANVP CERTIFICATION
ANVP Rapid Review & Exam, UK - December 10
ANVP Rapid Review & Exam, Phoenix, AZ - March 14
RECERTIFICATION
FIND AN NVRN TESTING CENTER LOCATION
ANVC CORE CURRICULUM
HOST A REVIEW COURSE