ANVC CONNECT APRIL 7
Call For Nominations Reminder
Don't forget to apply or identify candidates to fill open seats on the ANVC Board of Directors and Nominating Committee! To submit an application or nomination, please complete this online Candidate Application Form no later than April 30, 2020. Candidates are also required to provide references. Please ask your references to complete this online Candidate Reference Form no later than April 30, 2020.
Let's Talk! - ANVC Engagement Lounge
During this international pandemic with COVID-19, ANVC invites you to join us this Thursday, April 9th from 12:00 PM - 1:00PM (CST) for an open discussion on the recent article in Stroke, Hyperacute Stroke Management During the Coronavirus Disease 2019 (COVID-19) Pandemic (Khosravani, H., Rajendram, P., Natario, L., Chapman, M., and Menon, B., 2020). You can access the article by clicking here.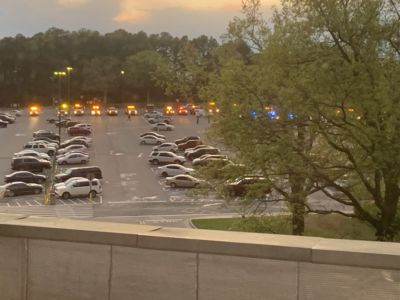 Police officers and tow truck operators giving a salute to the healthcare providers at Baptist Health- Little Rock last week.
Photo courtesy of ANVC member, Lindsey Bourne.
International Year of the Nurse and Midwife
Celebrate 2020 as the International Year of the Nurse and Midwife! Nominate your colleagues who are making significant contributions to the care of stroke patients and programs. Go to www.anvc.org/yearofthenurseandmidwife for more information on how to nominate a colleague today!
Congrats to two new ANVPs!
Last month Stacie Crain and Melisse Maser both attained ANVP-BCTM Certification in Phoenix, AZ. We welcome them to this elite group of acute stroke experts who have demonstrated expert level knowledge and clinical application skills to diagnose, treat, and support optimal stroke outcomes for patients and their families.
Spotlight on Board Member
Introducing: Anne Alexandrov, ANVC President-Elect





1. Where do you work? Professor of Nursing with a dual appointment as a Professor of Neurology at University of Tennessee Health Science Center (UTHSC) in Memphis, and Chief Nurse Practitioner of the UTHSC Mobile Stroke Unit
2. What is your professional role? I teach in the PhD program at UTHSC and work clinically as an adult-gerontology acute care nurse practitioner (AGACNP) on our mobile stroke unit (ambulance equipped with a CT) to diagnose and treat stroke in the field. I also work in as an emergency stroke nurse practitioner at our comprehensive stroke center hospital. I am the Principal Investigator for the ZODIAC multi-site clinical trial funded by the National Institutes of Health.
3. What are you reading? I'm always reading scientific journals and scanning for papers that are pertinent to my hyperacute emergency-based practice, but I also enjoy science fiction novels...I read all the Outlander and Harry Potter series within days of each book coming out years back, and have read and maintain a library that includes numerous books on Arthurian legend, Merlin, and Druid lore...best escapism EVER!
4. Share an inspirational quote: I have two quotes that I live by:
Quote One: "If you are not failing ten times more than you are succeeding, you are not taking enough risks. Creativity is more about productivity than it is about 'wild talent!'" (Robert Sutton)
Quote Two: "Our first responsibility as a leader is to create an attractive dream, to proclaim a destination, communicating it in detail to others who might be interested in joining our expedition." (Jim Collins)
---
Quick Links:
ASC CERTIFICATION
Postponed Until Further Notice
NVRN CERTIFICATION
Postponed Until Further Notice
ANVP CERTIFICATION
Postponed Until Further Notice
RECERTIFICATION
FIND AN NVRN TESTING CENTER LOCATION
ANVC CORE CURRICULUM
HOST A REVIEW COURSE