ANVC CONNECT - JUNE 11
Do You Need Continuing Education On Stroke? If So - Participate In Our Next Webinar!
What is it about? "Cryptogenic Stroke: Evidence-Based Interdisciplinary Approach to Care"
When is it? June 18, 2020 at 4:00-5:00 EST
Who is presenting? Jennifer Pattersion, RN, MSN, ACNP-BC, CCRN, FHM and Anne Alexandrov, PhD, RN, AGACNP-BC, ANVP-BC, NVRN-BC, CCRN, ASC-BC, FAAN.
How much is it? There is no cost to attend AND participants will earn 1.0 hour of CNE.
How do I register? Visit our website
In support of improving patient care, Arizona State University is jointly accredited by the Accreditation Council for Continuing Medical Education (ACCME), the Accreditation Council for Pharmacy Education (ACPE), and the American Nurses Credentialing Center (ANCC), to provide continuing education for the healthcare team.
Save The Date!
Upcoming ASC / ANVP Review Courses & Certification Exams:
*ANVP is held on the second day only
Sept. 10 & 11 - San Antonio, TX

Oct. 1 & 2 - Boston, MA

Nov. 14 &15 - Los Angeles, CA
Spotlight On ANVC Members
Introducing: Sky Coote, NP, MN, CCRN, ANVP-BC, NVRN-BC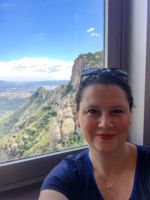 1. Where do you work? Melbourne Mobile Stroke Unit
2. What is your role? Nursing Coordinator, Melbourne Mobile Stroke Unit
3. What are you reading? A fabulous new crime series by Michael Robotham. He's an Australian writer but all of his books are set in London (& surrounds). Crime/murder mysteries are my favourite types of novels!
5. Share an inspirational quote: "You should be a priority. Not an option, back-up plan or a last resort?
---
Quick Links:
ASC CERTIFICATION
ASC Review Course & Certification Exam, San Antonio, TX - September 10 & 11
ASC Review Course & Certification Exam, Boston, MA - October 1 & 2
ASC Review Course & Certification Exam, Los Angeles, CA - November 14 & 15
NVRN CERTIFICATION
Postponed Until Further Notice
ANVP CERTIFICATION
ANVP Rapid Review Course & Certification Exam, San Antonio, TX - September 11
ANVP Rapid Review Course & Certification Exam, Boston, MA - October 2
ANVP Rapid Review Course & Certification Exam, Los Angeles, CA - November 15
RECERTIFICATION
FIND AN NVRN TESTING CENTER LOCATION
ANVC CORE CURRICULUM
HOST A REVIEW COURSE