ANVC CONNECT - JULY 28
You know who your valued stroke colleagues are…but do they know they are valued?
Celebrate 2020 as the International Year of the Nurse and Midwife by nominating your colleagues who are making significant contributions to the care of stroke patients and programs in spite of great difficulties during COVID-19. Go to www.anvc.org/yearofthenurseandmidwife for more information on how to nominate a colleague today! The deadline is August 31! The winner will be honored at the next ANVC Annual Conference with a plaque, free registration to the conference as well as a $1000 honorarium courtesy of the Health Outcomes Institute.
Add to your organization's stroke support resources for patients and caregivers during COVID-19!
The American Stroke Association launched COVID-19 and Stroke Podcast Series: Exploring the Impact of COVID-19 on Stroke Survivors. This 5 part podcast series for patients and caregivers moderated by Emmy Award winning news anchor Carey Peña facilitates the stories of stroke survivors and the impact of COVID-19 on rehabilitation, emotional and financial health as well as the challenge to stay active. See more at https://www.stroke.org/en/life-after-stroke/covid19-stroke-podcast-series-for-patients-and-caregivers
Hear our expert ANVC members at the 2020 SNIS virtual conference
This is the last week to register for the virtual 2020 meeting of the Society of NeuroInterventional Surgery (SNIS) on August 3-7! The SNIS has created a parallel program on August 6 for non-physician clinicians (Advanced Practice Providers, nurses, technicians) who are involved in multi-disciplinary teams dedicated to stroke. Several of our nationally and internationally recognized ANVC members are invited speakers and best of all, the program is FREE to nurses and technicians. Please visit https://www.snisonline.org/wp-content/uploads/2020/06/Meeting20_RegBroch-1.pdf for registration information.
Spotlight On ANVC Members
Introducing: Erica Sears, RN, MSN, ASC-BC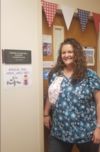 Where do you work? Jackson Hospital and Clinic, Inc
What is your role? Stroke and Bariatric Surgery Coordinator
What are you reading? I am taking a break from the "self-help" books. I am reading books to help me understand more details of the human brain. (Clinical Neuroanatomy made ridiculously simple, The Complete Idiot's Guide to Understanding the Brain) and attempting to master Spanish as a 2nd language.
Share an inspirational quote: It's not about being the best, it's about being better than you were yesterday.- Anonymous
---
Quick Links:
ASC CERTIFICATION
ASC Review Course & Certification Exam, San Antonio, TX - September 10 & 11
ASC Review Course & Certification Exam, Boston, MA - October 1 & 2
ASC Review Course & Certification Exam, Los Angeles, CA - November 14 & 15
NVRN CERTIFICATION
NVRN Review Course, Virtual - September 17 & 18
ANVP CERTIFICATION
ANVP Rapid Review Course & Certification Exam, San Antonio, TX - September 11
ANVP Rapid Review Course & Certification Exam, Boston, MA - October 2
ANVP Rapid Review Course & Certification Exam, Los Angeles, CA - November 15
RECERTIFICATION
FIND AN NVRN TESTING CENTER LOCATION
ANVC CORE CURRICULUM
HOST A REVIEW COURSE