ANVC CONNECT AUGUST 11
CONNECT with your ANVC colleagues
Have questions about ANVC review courses and exams? Want thoughts on a policy or protocol? Need a reference? Get real time, peer-to-peer communication, collaboration and education among the ANVC community on the ANVC discussion board! Simply visit www.anvc.org, hover over the members only tab, and select "Discussion Forum" from the drop-down. If you are new to the discussion board you will be prompted to setup a profile, if you are an existing user - please be sure your email address is up to date to ensure you are receiving notifications. Click here for an overview and instructions.
SPREAD the word
Many of our ANVC colleagues participate in research, presentations and publications and we want to celebrate those accomplishments with you. You may have a solution or an innovative idea that can change clinical practice or workflow for better patient outcomes. We invite you to share with your ANVC colleagues by clicking here to submit information related to those projects!
Spotlight on ANVC members
Introducing: Russell Wheeler, PA-C, ANVP-BC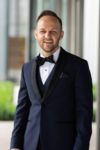 Where do you work?

INTEGRIS Southwest Medical Center

What is your role?

Neurohospitalist PA

What are you reading?

Tiny Habits Remarkable Results

Share an inspirational quote:

"Goals are good for setting a direction, busy systems are best for making progress"
---
Quick Links:
ASC CERTIFICATION
ASC Review Course & Certification Exam, San Antonio, TX - September 10 & 11
ASC Review Course & Certification Exam, Boston, MA - October 1 & 2
ASC Review Course & Certification Exam, Los Angeles, CA - November 14 & 15
NVRN CERTIFICATION
NVRN Review Course, Virtual - September 17 & 18
ANVP CERTIFICATION
ANVP Rapid Review Course & Certification Exam, San Antonio, TX - September 11
ANVP Rapid Review Course & Certification Exam, Boston, MA - October 2
ANVP Rapid Review Course & Certification Exam, Los Angeles, CA - November 15
RECERTIFICATION
FIND AN NVRN TESTING CENTER LOCATION
ANVC CORE CURRICULUM
HOST A REVIEW COURSE