ANVC CONNECT - SEPTEMBER 24
Year of the Nurse and Midwife Award Winner!
The results are in! The winner of ANVC's Year of the Nurse and Midwife Award is...Jennifer Henry! Jennifer is the Director of the Comprehensive Stroke Center at the University of Tennessee in Knoxville. This stroke program has been recognized by the Joint Commission as one of the best in America, and Jennifer has helped build it from the ground up. Please join us in congratulating Jennifer for this great accomplishment. Jennifer will be honored at the next ANVC Annual Conference with a plaque.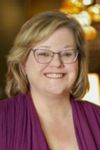 We would like to thank the ANVC membership for submitting nominees Kasha Pinkerton, Nicolas A. Pinuel, and Abbigayle Doerr as very worthy candidates for this honor. Thank you all for what you do on a daily basis in making a difference in the lives of stroke patients and families. We are very proud to be your colleagues.
MT2020 Stroke Coordinator Webinar
Join ANVC in association with SVIN and MT2020 for the upcoming Stroke Coordination for Mechanical Thrombectomy Webinar! ANVC's President-Elect Anne W. Alexandrov, PhD, AGACNP-BC, ANVP-BC, ASC-BC, NVRN-BC, CCRN FAAN, will be presenting. The webinar will take place on Friday, October 23, 2020, from 8AM-9AM EST. Click here for more details and to register.

ASC Goes Virtual In November!
You asked...we listened! ANVC is excited to announce the first ever Virtual Advanced Stroke Coordinator (ASC) Review Course and Certification Exam! Join your ANVC colleagues from the comfort of your home on November 20-21st for the Review Course. After completing the online Review Course, the Certification Exam may be taken at your convenience at one of the 470 testing sites across the country.

---
Quick Links:
ASC CERTIFICATION
ASC Review Course & Certification Exam | Virtual | November 20 & 21
ASC Review Course & Certification Exam | San Antonio, TX | April 29 & 30
NVRN CERTIFICATION
No NVRN Review Course or Certification Exam Currently Scheduled
ANVP CERTIFICATION
No ANVP Rapid Review Course & Certification Exam Currently Scheduled
RECERTIFICATION
FIND AN NVRN TESTING CENTER LOCATION
ANVC CORE CURRICULUM
ASC REVIEW BOOK
LOCALIZATION CARDS
HOST A REVIEW COURSE