ANVC CONNECT - JANUARY 29
February webinar
Register NOW for "Aneurysm Management and Treatment" Webinar, presented by Natalie Hall, MSN, FNP-BC, ANVP-BC. This event is FREE to register, and will be taking place on Thursday, February 18, 2021 from 1PM – 2PM CST. ANVC will provide 1.0 contact hour which can count towards ANVC certification renewal. Click here to register!

Considerations for Blood Pressure Goals in ICH
One of the primary treatment interventions for patients with spontaneous intracerebral hemorrhage is blood pressure reduction in order to reduce hematoma expansion. Two trials1 demonstrated that it was safe and reasonable to reduce systolic blood pressure to a target of 140 and this was incorporated into the ICH stroke guidelines2. In the past few months, two papers have been published regarding standard blood pressure goals, hematoma expansion and patient outcomes. Qureshi and colleagues3 performed a post hoc analysis of the patients in the ATACH-2 trial with moderate to severe grade ICH and found that intensive blood pressure lowering reduced the frequency of hematoma expansion but did not reduce death or disability in those patients. Divani and colleagues4 concluded that blood pressure goals should be considered in the context of hematoma volume and that worse outcomes were associated with initial blood pressure reductions greater than 40 mm Hg.
1 Anderson, Craig S., Emma Heeley, Yining Huang, Jiguang Wang, Christian Stapf, Candice Delcourt, Richard Lindley, et al. 2013. "Rapid Blood-Pressure Lowering in Patients with Acute Intracerebral Hemorrhage." The New England Journal of Medicine 368 (25): 2355–65. https://www.nejm.org/doi/pdf/10.1056/nejmoa1214609
Qureshi, A.I., Palesch, Y.Y., Barsan, W. G., Hanley, D.F., Hsu, C.Y., Martin, R.L., Moy, C.S., Silbergleit, R., Steiner, T., Suarez, J.I., Toyoda, K., Wang, Y., Yamamoto, H., Yoon, B.W., et al., for the ATACH-2 Trial Investigators and the Neurological Emergency Treatment Trials Network (2016). Intensive Blood Pressure Lowering in Patients with Acute Cerebral Hemorrhage. The New England Journal of Medicine 375 (11), 1033-1043. https://doi.org/10.1056/NEJMoa1603460
2 Hemphill JC 3rd, Greenberg SM, Anderson CS, Becker K, Bendok BR, Cushman M, Fung GL, Goldstein JN, Macdonald RL, Mitchell PH, Scott PA, Selim MH, Woo D; on behalf of the American Heart Association Stroke Council, Council on Cardiovascular and Stroke Nursing, and Council on Clinical Cardiology. Guidelines for the management of spontaneous intracerebral hemorrhage: a guideline for healthcare professionals from the American Heart Association/American Stroke Association. Stroke. 2015;46:2032–2060.https://www.ahajournals.org/doi/10.1161/str.0000000000000069
3 Qureshi A, I, Foster L, D, Lobanova I, Huang W, Suarez J, I: Intensive Blood Pressure Lowering in Patients with Moderate to Severe Grade Acute Cerebral Hemorrhage: Post Hoc Analysis of Antihypertensive Treatment of Acute Cerebral Hemorrhage (ATACH)-2 Trial. Cerebrovasc Dis 2020;49:244-252. doi: 10.1159/000506358 https://www.karger.com/Article/Abstract/506358
4 Divani, A.A., Liu, X., Peterson, A., et al. (2020). The magnitude of blood pressure reduction predicts poor in-hospital outcome in acute intracerebral hemorrhage. Neurocritical Care, 33(2), 389-398. https://pubmed.ncbi.nlm.nih.gov/32524527/
What's on your smart phone? Member favorite Apps...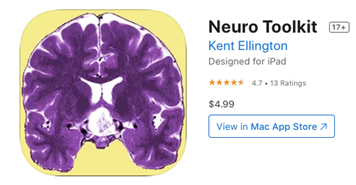 Lots of commonly used Neurology/Neurosurgery grading scales in one place!
***This is intended for information and sharing purposes only and should not be considered an endorsement of this product by ANVC
---
Quick Links:
ASC CERTIFICATION
All 2021 Courses Availalbe! Click Here For Schedule!
NVRN CERTIFICATION
All 2021 Courses Availalbe! Click Here For Schedule!
ANVP CERTIFICATION
All 2021 Courses Availalbe! Click Here For Schedule!
RECERTIFICATION
FIND AN NVRN TESTING CENTER LOCATION
ANVC CORE CURRICULUM
ASC REVIEW BOOK
LOCALIZATION CARDS
ANVC MASKS
HOST A REVIEW COURSE