ANVC CONNECT - MARCH 26
ANVC Members Shine at the International Stroke Conference
If you attended last week's virtual International Stroke Conference, you may have recognized some of the presenters. The following ANVC members were strong contributors to the conference presenting the latest research and interventions for stroke patients: Anne Alexandrov, Wendy Dusenbury, Michele Glidden, Desiree Metzger-Cihelka, Dawn Meyer, Jennifer Patterson, Cesar Velasco, Michelle Whaley, Russell Wheeler, and Skye Coote.
To recap this year's ISC, don't miss the ANVC Engagement Lounge webinar "Back from the International Stroke Conference: Updates on Hot Topics" presented by Sherry Friedrich, DNP, APRN, ANVP-BC, SCRN, on May 19, 2021 from 2-3 PM. Click here to register.
News to Use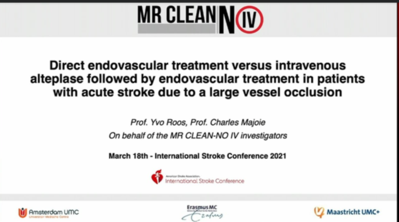 Results:
Did not show superiority or non-inferiority of direct endovascular treatment over IV alteplase followed by endovascular treatment

Similar hemorrhage rates with or without IV alteplase administration before endovascular treatment
Translation:
We should still administer the IV alteplase even if the patient is going to the angio suite for thrombectomy for several good reasons. The anatomy can be challenging and delay getting to the clot; TICI IIb or greater recanalization is not guaranteed with thrombectomy; and the alteplase can begin to re-establish flow without significant increase in hemorrhage risk.
ANVC Calendar - April
Click here for the 2021 calendar to register for ANVC events.
April 14: 1PM-2PM CST "Creating Stroke Champions" webinar presented by Cesar Valasco, BSN, RN, ASC-BC

April 15-16: 8AM EST – 5PM EST Virtual NVRN review course
---
Quick Links:
ASC CERTIFICATION
All 2021 Courses Availalbe! Click Here For Schedule!
NVRN CERTIFICATION
All 2021 Courses Availalbe! Click Here For Schedule!
ANVP CERTIFICATION
All 2021 Courses Availalbe! Click Here For Schedule!
ANVC WEBINAR SERIES
All 2021 Webinars Availalbe! Click Here For Schedule!
RECERTIFICATION
FIND AN NVRN TESTING CENTER LOCATION
ANVC CORE CURRICULUM
ASC REVIEW BOOK
LOCALIZATION CARDS
ANVC MASKS
HOST A REVIEW COURSE